BA848 "Kevin" Cable Fault Locator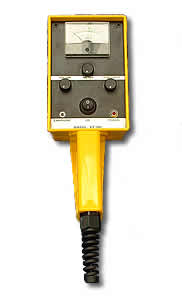 BA848 "Kevin" Cable Pinpoint Fault Locator
Locate broken wires and shorts in telephone and data cables within 5cms
Location of cable faults is normally carried out in two phases. First a location is made from the ends of the cable using either bridge or pulse techniques. The position of the fault is usually expressed as a percentage of cable length. A search is then made in the region of the first location, the Kevin system carries out the pinpoint test.
The Kevin system comprises two units, a Cable driver and a receiver/probe.
The Crystal controlled cable driver is connected to one end of the cable. This driver injects a 10KHz signal into the cable. This frequency is chosen to allow long cable lengths to be used whist still allowing sufficient discrimination. The driver voltage is restricted so that the system is safe to use.
The fault location probe is then passed along the cable until the signal strength drops. This is the location of the break. The signal can be monitored in 2 ways.
1. A 1Khz tone in the headphones becomes louder and quiter depending on the strength of the signal.
2. An Analogue meter (with adjustable sensitivity control) shows the strength of the signal.
The probe using a tuned circuit together with crystal controlled ring modulator mixer, this ensures that the probe will only indicate signals produced by the cable driver. The probe is unaffected by mains signals.
The system can be used to detect short circuits as well as breaks in the cable. When using twisted pair cable the signal will rise and fall periodically, the fault will be pinpointed when the signal strngth becomes constant.
Rechargeable batteries power the system so it can be used even when there is no suitable power source available. Two battery chargers are supplied with the system, this allows it to be left on charge so that it will always be available when you need it.
Signal strength is shown on a meter for visual operation.
Headphones are included so that fault can be found audibly.
Adjustable sensitivity.
Supplied with rechargeable batteries and chargers.
Probe will only detect frequency band emitted by the cable driver so the system is unaffected by mains and most other factory noise.
Faults can be detected in plastic and paper insulated cores.
Faults can be detected in screened wires.
Ergonomic case and probe.
Features
| | |
| --- | --- |
| | |
| | Cable driver |
| | Power supply: internal recharargable 12V Battery, charged by mains powered recharger (included) |
| | Dimensions: 130mm X 199mm X 74mm |
| | Frequency: 10Khz Nom |
| | Connections: 4mm screw terminals. |
| | |
| | Reciever |
| | Power supply: internal recharargable 9V Battery, charged by mains powered recharger (included) |
| | Dimensions: Handheld enclosure 281mm X 105mm X 85mm, IP65, DIN50014 |
| | Sensor: 25mm Diameter and 100mm long. |
| | Detection method: Inductive pickup coil with tuned circuit, crystal controlled oscillator and ring modulator. When signal is present a 1KHz tone will be present in the headphones. A signal strength meter allows visual detection of signal. |
| | |
| --- | --- |
| Part No | Description |
| B848 | "Kevin" Cable Pinpoint Fault Locator |