Life Cycle & Fatigue Testers
Custom Life Cycle Test Systems
During design and product qualifying stages it is important to know how long a product will operate and what the failure modes will be. It is important to copy what the user will do to a product and repeat this many times. The main operations to consider are Push, Pull, Toggle and Twist (Rotate.)
Switches can use all these operations. Membrane switches, keyboards and keypads will all require a push with a known force. On/Off switches will combine a push and a pull or possibly push on, push off. A rocker switch and toggle switches will require a push in two different places. Rotary switches (and volume controls, potentiometers) need to be rotated clockwise and counter clockwise The standard life cycle and fatigue tester the B886 Simon System has been designed for life cycle and fatigue testing of switches, membrane switches, keyboards and keypads. It contains all the components needed to life and fatigue test a products that need to be pushed. We can also supply different actuators for a push, pull, rocker, toggle, volume control or rotary switch.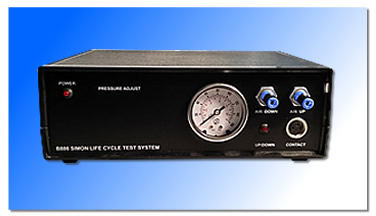 Now you have the ability to push, pull and rotate there are many other products that can be tested. These include testing the number of times you can plug and unplug connectors and sockets, bending plastic assemblies to see if they fail, opening and closing doors and catches, inserting memory cards to check the locking mechanism. We can supply the jig to support the product under test or you can do this is house.
The B886 computer controlled system allows you to control the life test easily. Simply enter the times for each cycle and the number of cycles required. Adjust the air pressure to match the force required to duplicate the movements that a user would make. You can also record part numbers and serial numbers which will then be stored in a Microsoft database.

The system will now repeatedly carry out an operation so that you can examine the effect of repeated use on a component. The basic test would be to push and pull a component but as the test is carried out using compressed air actuators there are other operations that could be continually tested. Jigs can be built to copy rotary movements.
We will be pleased to suggest ways to carry out a life test. If you have in house engineering facilities you can just purchase the test system and actuators. Alternatively our engineers will be pleased to propose and build full test rigs & jigs.

Available Test Features
| | |
| --- | --- |
| | |
| | Automated Life cycle and Fatigue test system |
| | Push test |
| | Pull test |
| | Toggle test |
| | Rotary test |
| | Rub Test |
| | Insertion test |
| | Accelerated Life Cycle Testing |
| | HALT (Highly Accelerated Life Testing) |
| | Save results to Microsoft Access Database |
| | Print Test Results |
| | Automatically Pause a Test on schedule |
| | Electronically adjust force |
| | Print customised test certificates |

Click Here for a Free Quotation
OR
Email: lifetesting@banair.co.uk
OR
Phone: +44 (0)23 8032 4334