BA765SL Slip Ring Test System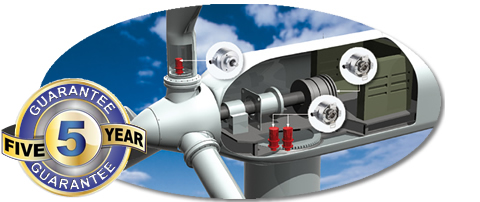 Slip ring and Connection Test System for Slip Rings,
Rotating Contactors, Rotary Joints & Transfer Systems
Static Tests

This is a high specification tester that will measure many cable parameters. It measures cable resistance very accurately using the Kelvin 4-wire method. It also tests for shorts between pins at a low voltage. The next test is to measure insulation between connections at a higher voltage. This is carried out at up to 1500 Volts DC with resistances of 10 to 500 Meg ohms.
The modular design of this cable harness connection test system provides flexibility so that it will meet both your present requirements and it can expand for your future needs.
The Windows software is user friendly, using the standard interface that you are familiar with. The cable harnesses and connection test results are displayed clearly on the screen, the table shows resistance values and insulation values. It also shows Pass or Fail results for shorts, continuity and insulation. This allows quick rework and feedback to production of the nature and position of the faults.
All the results are stored in a standard Access database format allowing production and quality control to record test results and to analyse them for AQL.
Dynamic tests

The system will also carry out dynamic tests to measure the resistance variation of slip rings. The test speed is user selectable between 2 and 40 rpm. The results are shown on a table that contains maximum resistance (1 clockwise and 2 anticlockwise) and noise (1 clockwise and 2 anticlockwise).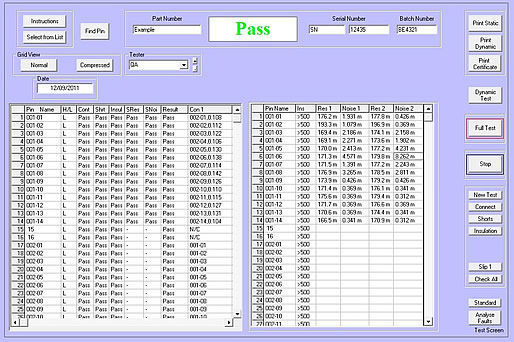 Clicking on one of the results will show a graph so that you can examine the variation in the resistance over a full rotation. You can then save the data to a .txt file that can be opened in Excel or Word.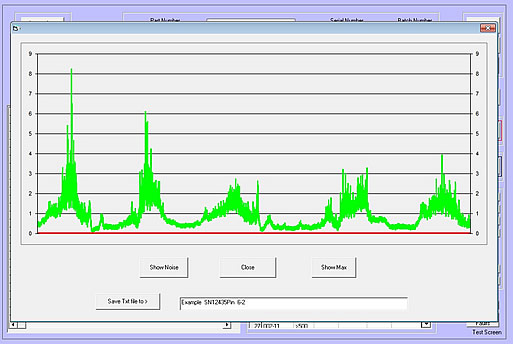 Part of sample Printout for Slip ring test.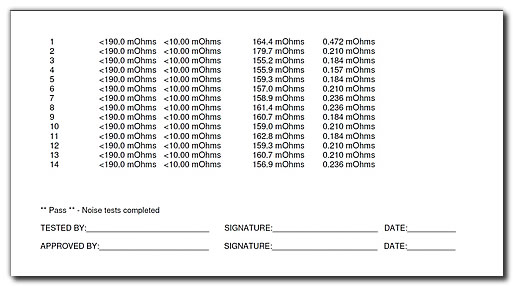 Part of sample printout for static test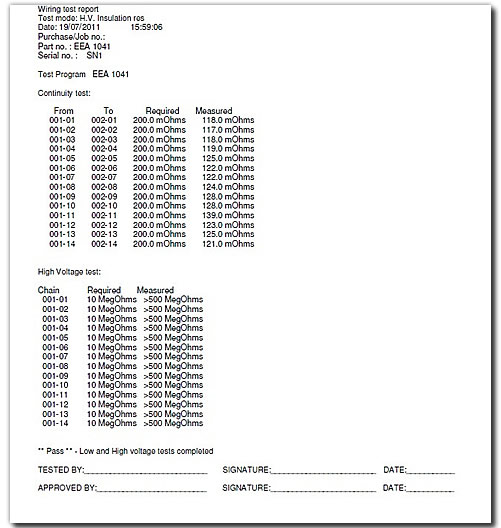 A sample Setup screen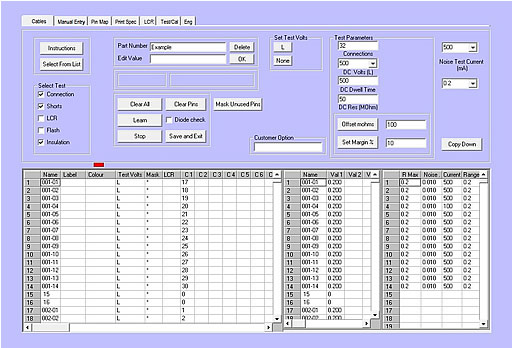 Features
| | |
| --- | --- |
| | |
| | USB connections for fast and easy setup - no internal PC cards required. |
| | Connections: Each module has 16 connections (32 test points) - Min 32 test points / Max 512 test points per standard 19" enclosure. Test units can be added in blocks of 32 up to 512 test points.. |
| | Continuity Test, Voltage: 5V dc @ <100mA, Resistance: 0.001 to 10 Ohms, 4-wire (Kelvin) resolution 1mOhm. |
| | Shorts Test, Voltage: 5V dc @ <100mA |
| | Dielectric Test, Voltage: 50V to 1500V dc +/- 5%, Current: Limited to 1mA. |
| | Slip Ring test, Rotational test speeds 2, 5, 10, 20, 40 rpm, Test current 100mA or 500mA, Test frequency 1 KHz or 5 KHz |
| | Complies with MIL-C3885F (CABLE ASSEMBLIES AND CORD ASSEMBLIES, ELECTRICAL) and MIL-DTL-3885G, (CABLE ASSEMBLIES AND CORD ASSEMBLIES, ELECTRICAL) |
| | Enclosure: The system, dependent on requirements can be supplied in either 6U 19" cabinet / case / rack mounting or half size system. |
| | There are two pairs of voltage free contacts to control the operation and direction of rotation of the slip ring. |
| | Maximum number of cables stored is only limited by the size of your computer hard disk.. |
| | All results saved in Access Database |
| | Printed results sheets and labels. |
| | Power: Mains 120/220/240 Volts A.C. |
| | |
| --- | --- |
| Part No | Description |
| BA765SL | Slip ring Standard Connection Test System with 32 connections (1 module) (5-Year GT) |
| BA765-32MOD | 32 connection module (5-Year GT) |
5-Year GT
Product marked (5-Year GT) have a 5 Year Banair Guarantee. Click here for more details.