Product Design
We can design electronic instruments for a wide range of applications. This can either be at concept stage such as the REM 3 Taximeter or to take a preproduction prototype and turn it into a finished product (The Signature analyser designed for Flite Electronics).


Electronic Taximeter designed for
Taximeter Sales and Services

Capabilities
Software Design:
We have extensive experience in designing embedded software for microprocessor based products. In the past this was in Assembler but nowadays we would recommend that a high level language is used as this provides a faster more maintainable solution.
We believe that the a successful product depends on getting it right first time so we use a structured development procedure. The product specification is used to produce a Yourdon diagram. We currently use C, C++, VB and Forth as development languages.
Electronic Design:
Our main expertise is in low power instruments, a typical product containing a user interface (LCD/LED Display and Switches), Interface to other equipment (typically RS232), transducer signal conditioning and microcontroller. This will involve a mixture of analogue and digital techniques.
We are experienced to evaluatng the cost performance trade offs with different system configurations and will be please to advise on best match for your application. A feasibility study on the various options is often worthwhile at this stage.
System Integration:
We would always recommend that Electronic and Software design is carried out by the same company, this provides an overview of system operation and helps avoid the classic problem of one side "blaming" the other. Our extensive experience with analogue and digital techniques enables us to take a broader view of product design that a company that only covers Part of the design process.
Reference Accounts
All our own products on the accompanying pages were designed in house. We have also designed products for a number other companies. Applications range from Marine instruments to Lab instruments used in Schools and Universities.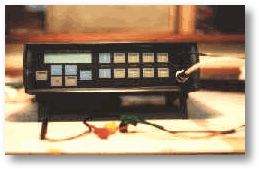 This Signature Analyser was brought to us as a prototype, Banair then carried out the industrial design and manufacture of the product which is now marketed by Flite Electronics International ( www.flite.co.uk ).