B801 "Sharon" Connection Test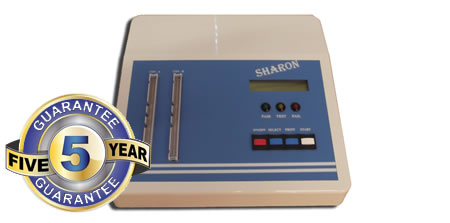 "Sharon" Cable, Harness and Wiring Connection Tester
If you need a versatile cable harness tester with a range of accessories at a low price then you need to know about the "Sharon" connection tester.
The single most important test applied to a completed cable or harness assembly is an exhaustive continuity check to determine the electrical connection between each point within the cable or harness.
The "Sharon" is able to learn from a (gold standard) cable / harness or use a pre-stored wiring list to verify that the subsequent assemblies match the connectivity map exactly. Fast setup is a key feature in your cable harness tester.
The "Sharon" checks all possible connections within a cable harness assembly for opens, shorts and miswires, LED's indicate a Pass or Fail and the LCD display identifies any faults. A report sheet can be printed showing time, date and nature of fault. The results can also be saved to an Access Database if the "Sharon" is controlled by the P.C.
Portability, low cost and ease of use make the "Sharon" ideal to be used by the people actually doing the cable and harness assembly and so save time and money on rework.
Tests cables, connections, wiring harnesses and switch assemblies.
Fast, accurate testing saves time and money.
Learns and stores wiring information.
Clear, easily read display.
Faults identified for rework.
Low cost.
Optional Computer Interface.
Saves results to a PC*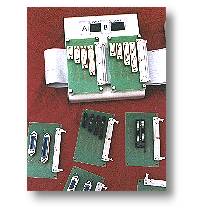 Interface adaptor boards
Features
| | |
| --- | --- |
| | |
| | Connections: 128 test points (2 off 64 way idc sockets) |
| | Test Voltage: 5V dc @ 1mA. |
| | Test Speed: 128 points in less than 1 sec. |
| | Display: 2 line x 16 character LCD with EL back light. |
| | LED Indicators: Fail, Pass, Testing. |
| | Switches: On/Off, Select, Print and Start |
| | Probe: Used for identification of cable. |
| | Memory: Up to 48 wire lists using non volatile storage. |
| | Power: 9V @ 400mA dc via mains adaptor. |
| | Computer Interface: * RS232 used to input/output data. |
| | *Software supplied to save/load net lists and store results. |
Do you require a cable harness tester that is even more versatile? ....
.... Check out our B857 "Tracy", BA765 "Henry" or BA427 "James" Systems.
| | |
| --- | --- |
| Part No | Description |
| B801-128 | "Sharon" Connection Tester with 128 test points (5-Year GT) |
5-Year GT
Product marked (5-Year GT) have a 5 Year Banair Guarantee. Click here for more details.